This i think will look nice coupled with my K800i, nice!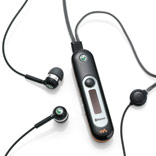 * Streaming music and call handling without wires
* Outstanding sound performance - for both music and call handling. Bluetooth™ 2.0, fast automatic volume adjustment, Digital Signal Processing (DSP) and Adaptive Frequency Hopping (AFH)
* Multipoint - can be connected to two wireless devices simultaneously, allowing access to the music files in your computer, PDA or other Bluetooth™-equipped
devices
* Ease of use with practical display - a music player as well as a wireless headset, easily accessible with the display attached to a neck strap.
I think the Multipoint feature is Ace.