MOS Challenge 29

Topic - Make Some Noise !!
Description - Make a Mix Using Noisy tracks.. eg. Heavy Rock or Metal Songs.
Restriction - None !!

Important Rules
1. Your remix has to be no more than 30 seconds and uploaded to M9 gallery.
2. When you're uploading your entry, the file must be named like this :
"Your Entry Name- MOS Challenge 28"
You can't use any Artists name in your mix!
3. You have to add this banner in description section of your entry.All you have to do is copy and paste this code: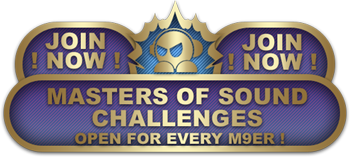 CODE
[url=http://www.mobile9.com/invboard/index.php?s=0&showforum=136][img]http://i1172.photobucket.com/albums/r568/Aeronitor/MOS/MOS-BANNER.png[/img][/url]
4. Along with your remix that should be posted in the topic, you are supposed to post the originals you have used for that remix as well.We don't care about the name of the song or the artist (though it would be much better if you provide these too), all you have to do is to post the parts of the song you have used in your mix.
5. You can post your entry before the voting begins. In case voting starts, we cannot accept any new entries & Do NOT edit your entry during the voting. This will result in disqualification. If there's anything that bothers you, simply explain it in a PM to
Me
,
Shad (Injamul_ahmed)
or the councilors. We will take care of it.
6. In Case You Didn't Post Originals Along With Your Entry Your Mix Will Be Disqualified
All the Mobile9 Members are Allowed to join the Challenge.

Here is the
Introduction & Rules
thread for more Info

*
The Challenge will close on 24th September 2012 MONDAY 10:30 AM INDIAN TIME GMT +5.30 (Approximately)
Check Current Time in INDIA

CLICK HERE
Voting rules will be explained in the voting topic.
You can share your opinions in Challenge Talk Thread.

We Hope You all Enjoy your time here!