Hi Guys,

There is new app for all those friends, who want typing in Hindi, Bangla, Telugu, Marathi, Tamil, Gujarati, Kannada, Malayalam & Punjabi with their QWERTY keypad phones. currently there is no such app that helpful for typing in Indian languages on phone.


Then PaniniKeypad recently launches new version for E-series or qwerty keypad phones. all the users having Nokia E63, E71, Nokia C3-00, X2-00, X3-02 (Touch & Type), Nokia Asha series 200,202,300,303 etc. and all the samsung qwerty keypad phones.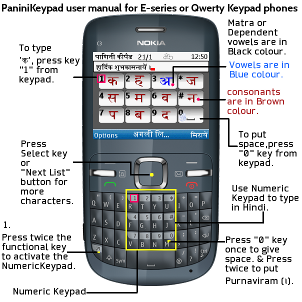 users can experience the magic of PaniniKeypad on these phones and with use of numeric keypad, they can type any thing in any languages.
people can type SMS, messages, jokes, chat, emails, blogging, social networking in FB & Twitter, festival sandesh, bithday & anniversary greetings, wishes etc.



Download & try this free application for phones....

"Connect with family & closer to your friends with help of PaniniKeypad."
Download link
:
http://gallery.mobile9.com/f/2515172/
,
Download link for Nokia E-Series QWERTY, X3-02, any other 4x3 forms
"
पाणिनि कीपैड
:
सभी भारतीय भाषाओँ में टाइपिंग अब और आसान ।
"